Budgets can be formatted in many different ways depending on the purpose, audience, and content. This article will go over the two most common ways to sort expenses in project and program budgets: by activity and by line-item.
By Activity
As the name suggests, budgets by activity sort all expenses between project activities. This format tends to be easier for project planners to organize and plan because they just need to put a number to each activity step and then sum the totals. Activity budgets are often used in concept notes or first instance, as they are easier to develop and also can be light on details. This means more details can still be changed and allows greater flexibility later in the negotiation process.
Below is a sample budget by activity. Note that all costs are grouped by activity, even if the category is the same.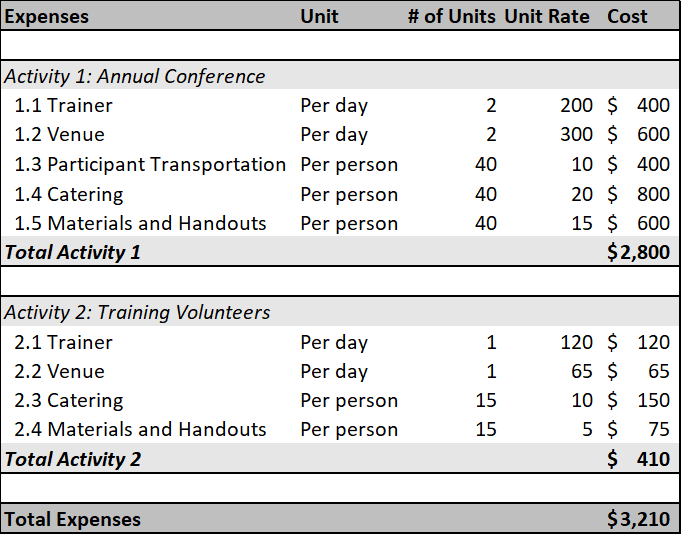 By Line-Item
Budgets by line-item group costs individually or by type of expenditure. Line-item budgets take the individual expenses underlying the activities, then re-group and combine them into separate categories. Donors typically prefer to see line-item budgets because it is easier to see exactly where their money is going. It is also harder to hide overhead expenses in line-item budgets. For NGOs, it is typically easier to first develop an activity budget to base the line-item budget off of.
Below is the same budget as above, but changed into the line-item format. Note that in the previous example activity budget, multiple activities had the same line-item but at different costs. In this example, the line-items are combined and the unit costs were adjusted to average out.