It is crucial to remember that grant fundraising is a cycle, and cycles always repeat. There are many various interpretations of the grant cycle, but the chart above provides a basic overview of how it works.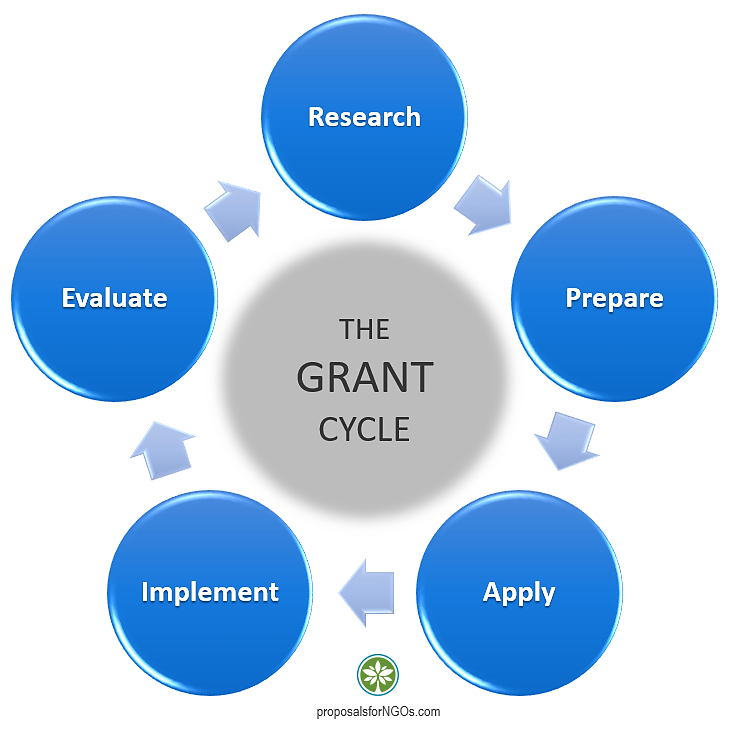 Research
Good research is key to good projects. This phase includes online searches, networking, and sometimes even extensive baseline surveys and evaluations. This phase provides a solid basis for project planning. This time should also be used to look into who may be interested in funding the project.
Prepare
With the necessary research completed, you can begin working out the project details, budget, and draft proposal. This phase also includes further discussions with potential partners and donors.
Apply
Counter-intuitively, the application phase can in some circumstances be the longest phase of the grant cycle. This is because many projects will be initially rejected, in which case you may choose to 1) continue applying to other donors, or 2) go back to the research phase. Even if you are accepted, there is often some back-and-forth before the final award is granted. Donors may request further documentation, may wish to negotiate, arrange a site visit, etc. which can extend the process.
Implement
Once the project is finally approved and the checks cleared, the actual project work begins. Make sure proper monitoring occurs throughout the entire project so you are ready for the next phase.
Evaluate
Looking at the results of the project, keep track of your accomplishments as well as where you could improve for next time. Use the results of the evaluation to plug back into your research for the next grant.
There is no standard timetable for the grant cycle- the process can be completed in weeks or months or years. Do note that grant cycles can overlap, so just because you are currently implementing one project does not mean you should stop applying for other projects. Also, is recommended to continue researching and networking year-round.