The FundsforNGOs Premium Bilateral Donor Database is a feature which complements the original Donor Database. While the original Donor Database contains profiles from thousands of international foundations interested in funding global development issues, the Bilateral Donor adds an additional 60+ governmental donors with aid budgets of over $100 billion annually.
Official Development Assistance (ODA) data is available from a range of online channels. Yet identifying donors that share your NGOs priorities still proves challenging. Information is not centralized, time-consuming to review, and websites are difficult to navigate.  The aim of the Bilateral Donor Database is to provide you a simple, time-saving tool to focus your donor research efforts. The database is specifically optimized for the use of NGOs based in the developing world. It is the only database of its kind which includes donors from all over the world in one convenient search. This guide will explain how to use the database most effectively to support your fundraising efforts.
Disclaimer: proposalsforNGOs is a service of fundsforNGOs. This article was originally published at fundsforngospro.com.
Access the Database
To access the donor database, you must be a FundsforNGOs Premium member. Once you log on to fundsforngospro.com with your username and password, you can access the bilateral database by going to "Donor Database" and clicking on "Bilateral Donor Search."
Note that you cannot search both the original Donor Database and the Bilateral Donor Database with the same search. Bilateral donors can operate very differently from private donors, so they have been separated to reduce confusion.
How to Search the Database
Find Government Donors in Three Easy Steps!
Step 1: Search
Select criteria matching your priorities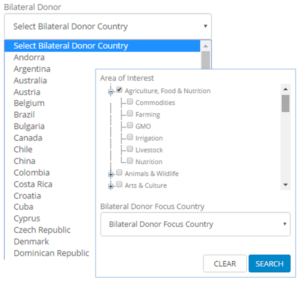 Searching for potential donors quick and easy. The Database contains an easy to use search feature to quickly determine which government agencies share the thematic and geographic priorities of your organization. Search through hundreds of search criteria to narrow down results and expedite your research process.
Step 2: Select
Browse through the profiles to determine your best matches.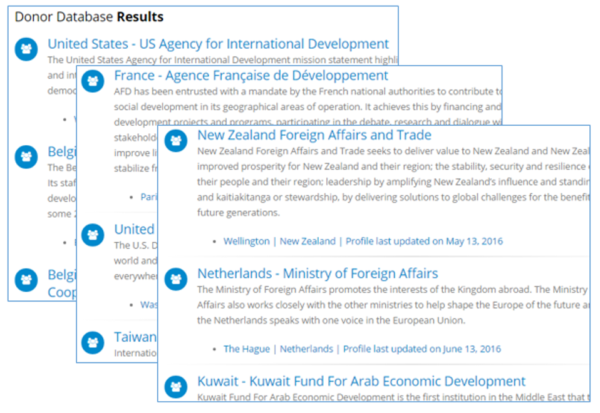 Quickly browse through the location and priorities of donor agencies that may fit your organization. Summary information including name, purpose, location, and most recent update date is organized to make it easy to quickly filter through options.
Step 3: Research
Begin your in-depth research with our easily accessible information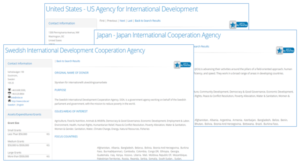 The profiles are concise with the basic information you need to launch your fundraising. The Database breaks down international government funders by country and agency, giving you the necessary information to point your fundraising campaign in the right direction. We make navigating complicated and disjointed government sources simple.
Other Search Options
There are three different means of searching through the Premium donor database. This section will explain each in detail.
Recently Updated/Added Donors list
Quick Donor Search tool
Keyword Search tool
1.    Recently Updated/Added Donors
The main screen of this page features all of the newest donors added to the database. These profiles have either been newly added or recently updated with new information. The FundsforNGOs team is constantly searching for new profiles to add to the database, and also reviews all profiles in the database at least once a year. So, this page is useful if you already know the Premium database very well and are only interested in finding updates to what you know.
2.    Quick Donor Search
The main method of searching the database is through the quick donor search tool. Here you can perform a combined search or individually search through selecting a donor country, areas of interest, and a focus country. Clicking the blue "Search" button will show search results. Clicking the white "Clear" button will restore search options to original blank settings.
Donor Country
In the Quick Donor Search tool, under "Donor" there is a "Select donor country" drop-down list. This will specify where the donor is located. Foundations are only listed by where they are headquartered in, not where they have offices. Also remember that our donor database features foundations from all over the world, so you may want to leave this set to default until it comes time to refine your search.
Areas of Interest
Next is a sort by area of interest. This limits the search by what the donor is interested in funding. If you scroll you can see there are plenty of options to choose from, and you can also click on the plus signs (+) next to some of the options for more specific categories. Note that if you select more than one category, for example Health and Children, the database will search for donors that support Health OR Children OR both, not donors who fund only health AND children.
Focus Donor Country
Below the Area of Interest box is a drop-down list for donor focus country. This filters donors by what countries they give to. This is useful if you want to know who donates to your country.
3.    Keyword Search
Below the Quick Donor Search is a search by keyword. Know that the Quick Donor Search and the Keyword search function are separate functions – they cannot be used at the same time. To use, type a keyword into the search box and then click one of the bubbles below to select from where in the record the database should search. The keyword search is mostly useful to jump to a profile you already know the name of.
The Profile
Once you click on a donor name, you will be taken to the donor profile page. This profile features a short introduction to the donor. All information here, unless otherwise stated, is collected from donor websites, annual reports, and official documenting sources such as the OECD database. Note that some profiles contain more information than others. This discrepancy is because some governments are more transparent about their finances, organizational structure, etc. than others. However, fundsforNGOs is continually researching and adding new information whenever possible.
The Profile page can be organized into three sections:
Main Entry
Contact Information
Assets/Expenditure/Grants
1.    Main Entry
Here are the basic parts of the profile:
PURPOSE – A brief description of the donor's mission, goals, bio, etc. is shown here.
ORIGINAL NAME – If the donor has both an official name in English and in the language of origin, the official name in the language of origin will be seen here. FundsforNGOs does not translate donor names, so if there is no official English name the donor name in the language of origin will be set as the real name and this Original Name option will not appear on the profile.
ISSUES/AREAS OF INTEREST – These are the general categories the donor is most interested in.
FOCUS REGIONS/COUNTRIES – These are the countries the donor has given to in the past.
LINK TO OFFICES/EMBASSIES – If available, this link will direct you to the government's locations around the world. Typically, the local office or embassy is your first stop to soliciting a grant from a bilateral donor.
APPLICATION INFORMATION – If available, an external link to the donor application guidelines page will be included here under the text "Reference 1". Otherwise, a general description of the application process will be included.
ADDITIONAL NOTES – Any relevant information not included in the above will be mentioned here. Links that lead to external websites are labeled "Reference 1," "Reference 2," etc.
TOP ODA – COUNTRIES – A list of the top ten recipient countries and how much ODA they received in one year is shown here.
TOP ODA – SECTORS – A list of the top ten recipient sectors and how much ODA they received in one year is shown here.
FULL ODA REPORT – This link provides a downloadable PDF file of all the recipient countries and sectors this donor providing funding for in one year.
ADD TO MY FAVORITES –  If you want to remember a donor for later you can save it to My Favorites. Simply click the "Add to My Favorites" button at the top right corner, and then you can go to My Account – My Favorites anytime to see your saved selections. You can also save foundations, resources guides, sample proposals, and other Premium features to My Favorites.
2.    Contact Information
On the left-hand side of the profile page is the contact information box. Here is where the address, telephone number, fax, e-mail address, and website can be found. Note that while some donors will have multiple offices and many staff members, only the general contact information for the headquarter office will be published here. Further research should be done to find local offices or relevant contact. FundsforNGOs highly recommends further outside research before contacting donors.
3.   Assets/Expenditure/Grants
If the donor publishes financial information, that information will be shown here.
Assets – Total value of the donor, including investments.
Expenditure – Total spent by donor in given fiscal year.
Grants – Total spent in charitable purposes by donor in given fiscal year.
Small Grants – Less Than $50,000. If there is clear evidence of the donor giving individual grants in this size range, this line will be marked "YES." Otherwise, it will be marked "Information not available."
Medium Grants – $50,000 to $500,000. If there is clear evidence of the donor giving individual grants in this size range, this line will be marked "YES." Otherwise, it will be marked "Information not available."
Large Grants – More than $500,000. If there is clear evidence of the donor giving individual grants in this size range, this line will be marked "YES." Otherwise, it will be marked "Information not available."
Recent Fiscal Year – This is the year the above data was reported from. Reporting data is typically one to two years behind.
Date – Date the profile was last updated.
Outside Research
While FundsforNGOs strives to include accurate and useful information in the Premium Bilateral Donor Database, remember that the database is only your first step in researching donors. You should use the database to create a list of potential donors who may be interested in your cause and from there continue with outside research. For further research tips, view other related FundsforNGOs resources.
Access the Bilateral Donor Database by becoming a FundsforNGOs Premium member today!