Simply put, a logframe is a summary of the project in table format. The logframe was reportedly developed originally by USAID during the 1970s for organizing logistics, but is now commonly used in many other government and private projects.
While there is no standard format, a logframe typically includes all the parts of a proposal organized in a way that shows cohesiveness. For example, the table below emphasizes how the Overall Goal is divided into Specific Objectives and Activities. It also makes clear that the results, M&E plan, and costs are in line which each activity.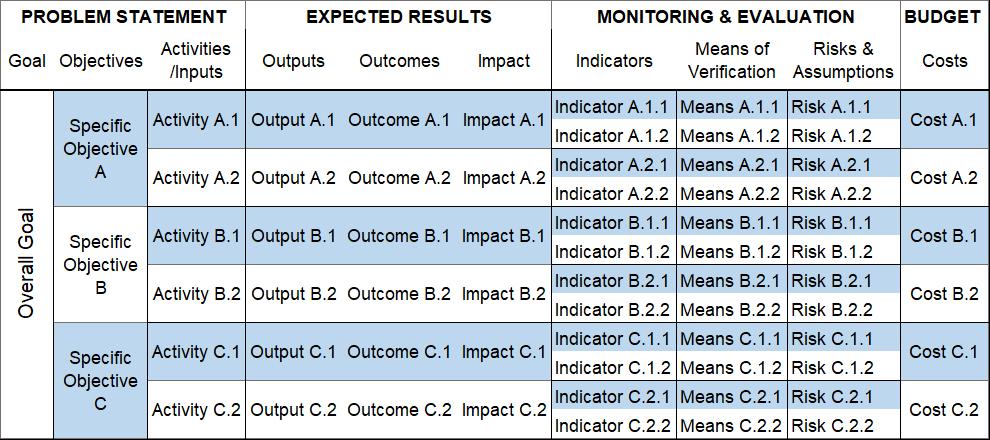 Other Uses
Logframes are notoriously confusing and difficult to put together. This is because creating a good logframe requires both a holistic and detailed understanding of the project. This level of understanding is rarely complete during the planning and funding stage, when the project design is still in flux. Still, even a draft logframe can be very useful for planning, managing, and fundraising. They can also be used as:
A planning tool to present a flow of ideas.
A framework to build clear, concise, and systematic information about a project.
A management tool for effective supervision and implementation of projects.
A table which shows project components and the relationships between these components.
A guide to what resources are needed and how they will be used in the project.
A method to clearly display the progress from goals to activities to results.
An overview to show how a complicated overall goal can be broken down into smaller manageable activities.
A way to show donors the project is organized and well thought-out.
A logframe may also be called:
Logical Framework
Logical Framework Analysis
LFA
Logical Framework Matrix
Project Framework