While developing a project proposal, you have most probably come across the terms Monitoring and Evaluation (M&E). These two concepts are of core importance while putting together your project plan and in many cases also your proposal. That is why your organization should spend some time on setting up a well working system from the start.
M&E is an approach that has mainly been developed to measure and assess the success and performance of projects, programs or entire organizations. Depending on the scope and use, it is implemented by project staff, consultants or specialized organizations.
Why do you need Monitoring and Evaluation?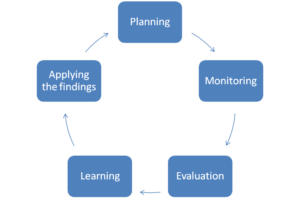 In the project circle, monitoring and evaluation play a key role to make sure organizations can learn from past projects and activities. This knowledge can be used to become better in the future. For donors, monitoring and evaluation is an important reporting tool. The organization can show that it used the grant or contribution well. It also makes it easier to find out which results were achieved with the support of the donor.
Monitoring and Evaluation are two different processes that are closely tied together and are therefore used in the same sentence most of the time. It is important to make a distinction between both of them though, to clearly understand the terms.
Monitoring refers to the process of collecting the data, evaluation to the process of analyzing the data. Both processes give your organization more legitimacy. They show that you want to be transparent in your actions and your spending and that you are willing to learn from past experiences – good or bad.