A new report from the US Foundation Center and the Council of Foundations gives us the latest trends in US global grantmaking using international funding data. We at proposalsforNGOs are here to present 6 main takeaways and what they mean for NGOs.
Note about the data: this report focuses only on grants from private foundations in the United States to organizations and/or projects based outside the United States between the years 2011-2015. This data does not include funding from individuals, governments (see our article on USAID), or corporations. It includes grants for both development and non-development purposes (i.e. museums, university research, etc).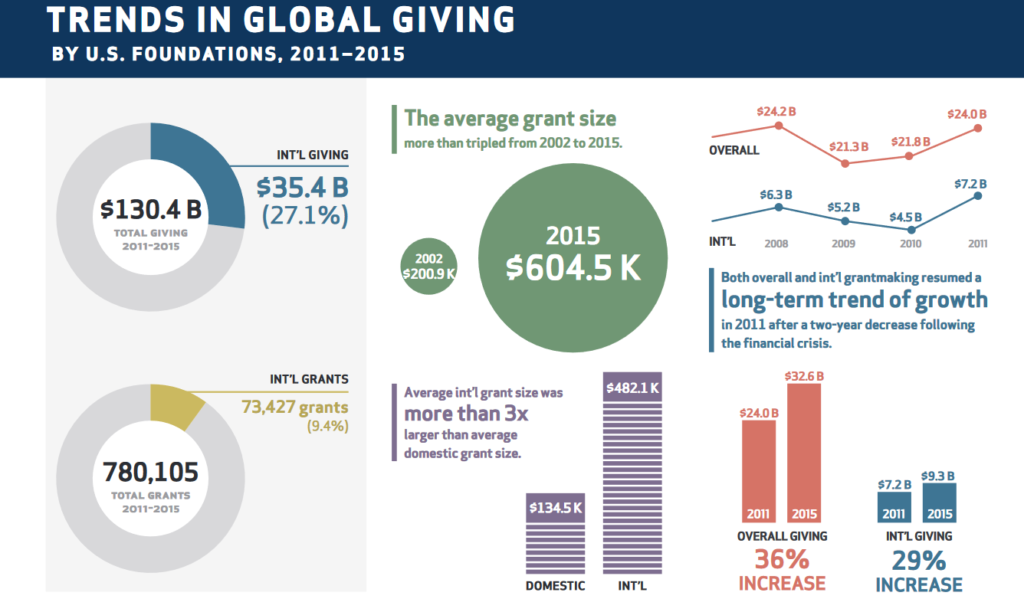 International funding is growing
Good news! More money than ever before is going to international causes! In 2015, US private foundations gave $9.3 billion in international grants – 29% more than in 2011. Giving amounts do decline in economic downturns, such as the 2008 recession, but the overall trend is increasing. Sectors with the largest gains include health, peace and security, and economic development. However, some sectors such as religion, science and engineering, and even education have actually seen a decline in funding.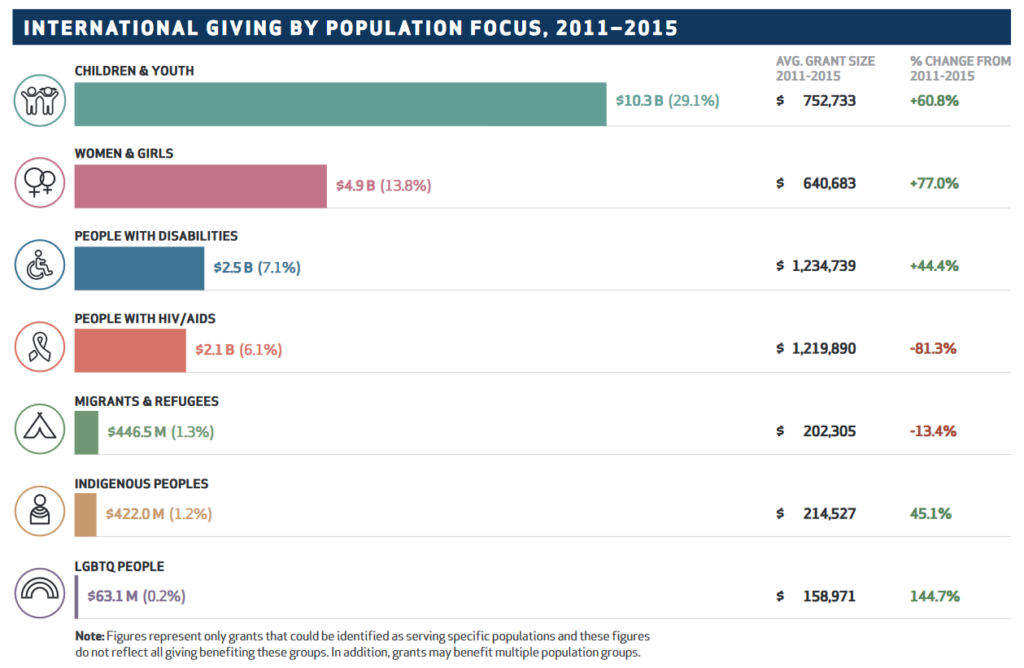 Important to note is that the Bill and Melinda Gates Foundation alone is responsible for just over 50% of all international funding in this period.
International grants are getting larger
While the amount of money is increasing, the number of grants given remains largely the same. This means that average grant amounts are increasing. While more funding is good, increasing grants sizes makes fundraising for small and mid-sized NGOs more difficult.
The average size of an international grant in 2015 was $604,500. This is triple the average size from 2002. Clearly, the many multi-million dollar grants from The Bill and Melinda Gates Foundation in recent years is a major factor in this increase, but this trend holds true even without this foundation.
For NGOs not able to absorb such large amounts, it is difficult to receive grants directly. Many NGOs instead become sub-grantees, form partnerships with other organizations, or elect to fundraise from individuals instead.
Most international grants are through intermediaries
Over 88% of US international funding is given through intermediaries. Less than 12% is given directly. There is much speculation about why this is. Many believe this is due to the difficulties of sending money abroad, doing due diligence, and finding NGOs able to absorb large grants.
NGOs looking to partake in US funding are encouraged to partner with these intermediaries. They should also run their organization and finances in a way that makes donor due diligence easier.
General support is still rare
While there is a growing call to provide unrestricted funding to all types of NGOs, general support is still hard to come by. Over this time period, only 1.1% of funding was given directly and was for general support. The vast majority of funding is still for specific projects or programs.
Tip for NGOs: donors that have funded you in the past are more likely to fund you again and give general support.
Low-income countries are still the least-funded
The World Bank currently classifies 34 countries as 'low income'. This means these countries have a GNI per capita of $995 or less. Countries on this list include Burkina Faso, Rwanda, Zimbabwe, Haiti, Nepal. Yet despite the tremendous need in these countries, giving to these countries only amounts to 16.7% of all funding. Most funding, 38.6%, goes to the 47 middle-income countries.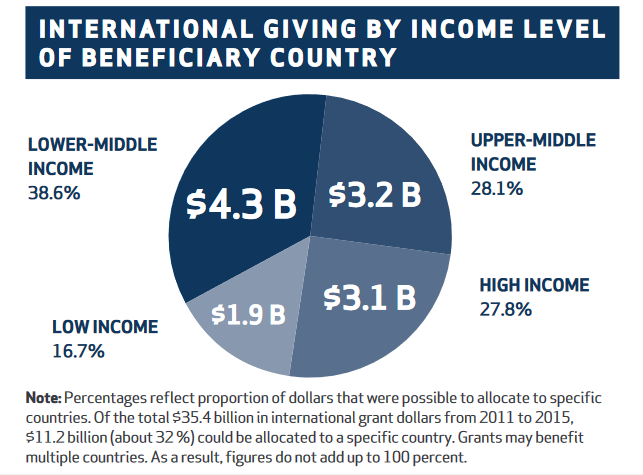 Experts say donors avoid low-income countries due to risk. No donor wants to see their grant money wasted. Unstable political situations, inflation, corruption, and the perceived difficulties in building capacity, good communication, and due diligence in these countries scare off many donors.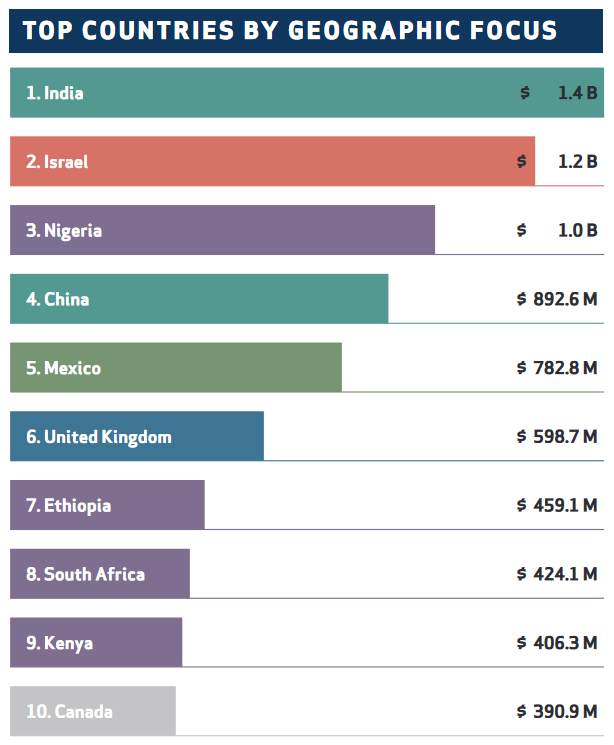 Community foundations are growing contributors to international giving
Community foundations typically are donors that only give locally, in their own communities. However, this definition is slowly changing as community foundations are engaging more and more internationally. The largest driver of this change is the Silicon Valley Community Foundation (SVCF), currently the largest community foundation in the world. In 2015 SVCF gave over $198 million to international causes. This amount is still a drop in the bucket. However, it does show community foundations are a growing new source of funding for international causes.
For more information, including breakdowns by sector, geographic area, and SDGs, download the full free report here: https://www.cof.org/content/state-global-giving-us-foundations-2011-2015